Jennifer A. BrinerAttorney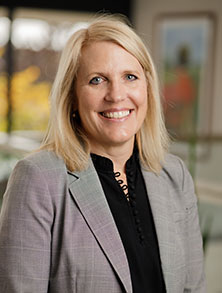 Jennifer has been helping clients navigate their legal difficulties since 1998. Her experience ranges from representing individuals and small businesses in straightforward disputes to representing Fortune 500 companies in complex cases. Jennifer recognizes that litigation is rarely a client's first choice. While she relies on litigations skills developed in arbitrations and trials to fight for her clients, she also recognizes the importance of assisting clients in finding practical and workable solutions when possible.

One of the things Jennifer enjoys the most about advocating for business clients is learning about the client's business and how it operates. From the heavily-regulated securities and insurance industries to family farms, Jennifer has represented clients in a variety of industries and works to develop strategies to reach the unique goals of each client.
In representing clients in property disputes, Jennifer brings a specialized understanding of matters that affect ownership, title and usage of property. In recent years, Jennifer has handled numerous cases touching on the enforceability of mortgages, the relative priority of liens against real estate, the validity of real estate conveyances, adverse possession, post-foreclosure issues, condominium lien and mortgage issues, title insurance coverage, and other related issues.
Jennifer works in partnership with her clients to provide thoughtful strategies and legal advice that is tailored to meet the goals and expectations of each individual client.
Jennifer and her husband, Shawn, have three children. When Jennifer is not working or parenting, she enjoys yoga and walking with friends, volunteering with the youth group at her church and hanging out with her dogs.
Undergraduate Education
University of Missouri-Columbia (English / Emphasis in Journalism, 1994)
Legal Education
University of Missouri-Columbia (Juris Doctor, 1998)
• Order of the Barrister
• Order of the Coif
Bar and Court Admissions
Missouri (1998)
Kansas (1999)
Illinois (2000)
United States District Court, Eastern District of Missouri
United States District Court, Western District of Missouri
Associations and Personal Affiliations
Member, American Land Title Association Title
Member, Missouri Land Title Association
Past President, St. Charles, Missouri Chapter of the Mizzou Alumni Association
Girl Scouts – Gold Award Recipient and Troop Leader
Publications
Journal of the Missouri Bar, Is There a New Guardian Ad Litem Just Around the Corner in Missouri?, 54 J. Mo. B. 242 (September/October 1998)