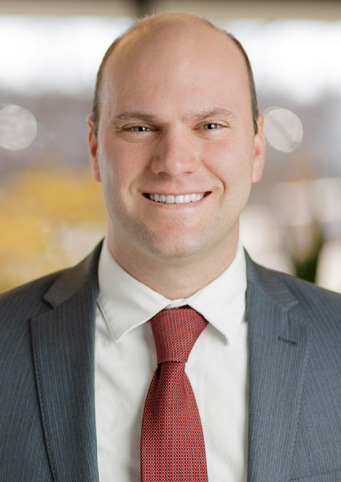 Adam has over a decade of experience representing clients in a broad array of litigation. Whether the matter is domestic, business, contract, or property related, Adam delivers first-class service to his clients by combining razor-sharp legal analysis with practical sensibilities and a desire to understand his client's circumstances and goals. Adam particularly relishes any opportunity to implement a novel approach to provide his client with a more effective or efficient solution.
For several years, Adam focused his practice on creditor-debtor relations, representing secured and unsecured creditors of all sorts, including commercial, retail-financial, and healthcare providers in various forums including circuit court, associate circuit court, probate court, and administrative agencies. If you are owed a debt, or someone claims you owe them a debt, chances are good that Adam has experience with the issues you are facing.
Adam has developed deep expertise in civil legal procedure, having litigated hundreds (if not thousands) of cases and successfully trying dozens of cases before judges across Eastern Missouri and Southern Illinois. He prides himself on preparedness, thoroughness, and presenting the strongest possible case in court. That said, Adam is a skilled, patient, and empathetic negotiator. He is always on the lookout for opportunities to reach an agreement.
Real estate matters are a favorite of Adam's, and he has handled myriad matters in that regard including lien validity and priority, adverse possession, chain-of-title defects, access/usage disputes, complaints against contractors and utilities, post-sale disputes about pre-sale disclosures, and disposition of real estate in both business and domestic dissolution, as well as probate administration.
Adam is a 2008 graduate of Illinois State University, with a Bachelor of Science in Politics and Government. He is a 2011 graduate of Southern Illinois University's School of Law, where he served on the editorial board of the Journal of Legal Medicine and began his practice of law as a limited-license intern with the School of Law's Civil Practice/Elder Law Clinic and Domestic Violence Clinic. Adam and his wife, Ellie (also a fine lawyer), have 2 children. In his limited free time, Adam enjoys spending time with family and friends, music of almost all genres (he is known to pick, strum, and sing from time to time), the occasional round of golf, and floating down a crystal clear Ozark stream.
Undergraduate Education
Illinois State University (Bachelor of Science, Politics and Government, 2008)
Legal Education
Southern Illinois University (Juris Doctor, 2011)
Bar and Court Admissions
Illinois (2011)
Missouri (2012)
Associations and Personal Affiliations
Member, The Bar Association of Metropolitan St. Louis
Member, Illinois State Bar Association
Recognition
Best Commentary, Journal of Legal Medicine, Spring 2010
Best 3L Brief Writer, Legal Medicine Perspectives, 2010-2011
Eagle Scout, 2004